Catalyze is a new approach to translational research support that takes into consideration not only the technical needs of the project, but also the management, commercialization, regulatory, and training requirements of the scientists developing them. Catalyze strives to anticipate the needs of a supported project, pivot funding and other support as needed, and prevent projects from failing for non-technical reasons. Projects supported by Catalyze receive funding, project management support, access to technical services and expertise, advisory services (IP, regulatory, commercialization), training opportunities, access to best practices and the opportunity to become part of an innovation network.
Mission
The mission of Catalyze is to provide a comprehensive suite of support and services to facilitate the transition of basic science discoveries into viable diagnostic and therapeutic candidates that have been cleared for human testing, and to develop a translational research workforce fluent in product development and entrepreneurship.

Strategy
Provide funding for HLBS-related therapies, devices, and diagnostics across the continuum of translational science
Support scientists in setting reachable milestones that move their projects along the research pathway
Educate investigators in translation, marketing, and commercialization of products
Anticipate the needs of researchers so that they spend time on the science instead of the administration of projects and figuring out the next steps
Pivot funding and support quickly depending on project and scientific needs
Grant Mechanism R61/R33
US-based academic, non-profit institutions, and US-owned for-profit institutions are eligible to apply
Online submission through GRANTS.GOV
There are five funding opportunities

Two that target therapeutics (dependent on early or late entry stage of development),
two that target devices, diagnostics, and tools (dependent on early or late entry stage of development),
and one that targets enabling technologies and transformative platforms.

Special Requirements

Project Management
Milestones and Timeline
Intellectual Property and Regulatory strategy
Rigor and Reproducibility
Matching Funds expectation (R33 only)
Accelerator Partner (R33 only)
Preclinical Service Contract through RTI International
US-based academic, non-profit institutions, and US-owned for-profit institutions are eligible to apply
Simple online application to request services (EOI, full application)

Focus on gap filling studies to accelerate promising technology toward traditional funding mechanisms or 3rd party investment
Applicants will be expected to achieve commercial milestones in exchange for preclinical services

Awardees will be expected to achieve negotiated commercial milestones

Opportunity to work with Catalyze Coordinating Center's Innovation Advisors
Access to NHLBI team of EIRS (Investment, IP, Regulatory, Clinical trial design, Reimbursement)
Learn more
The Catalyze Webinar Series presents a monthly program of webinars, lectures, and workshops about early-stage product development oriented towards academic innovators. The webinars are open to all faculty, staff, and students interested in early-stage product development.
February 22, 2023
Preclinical Informational Webinar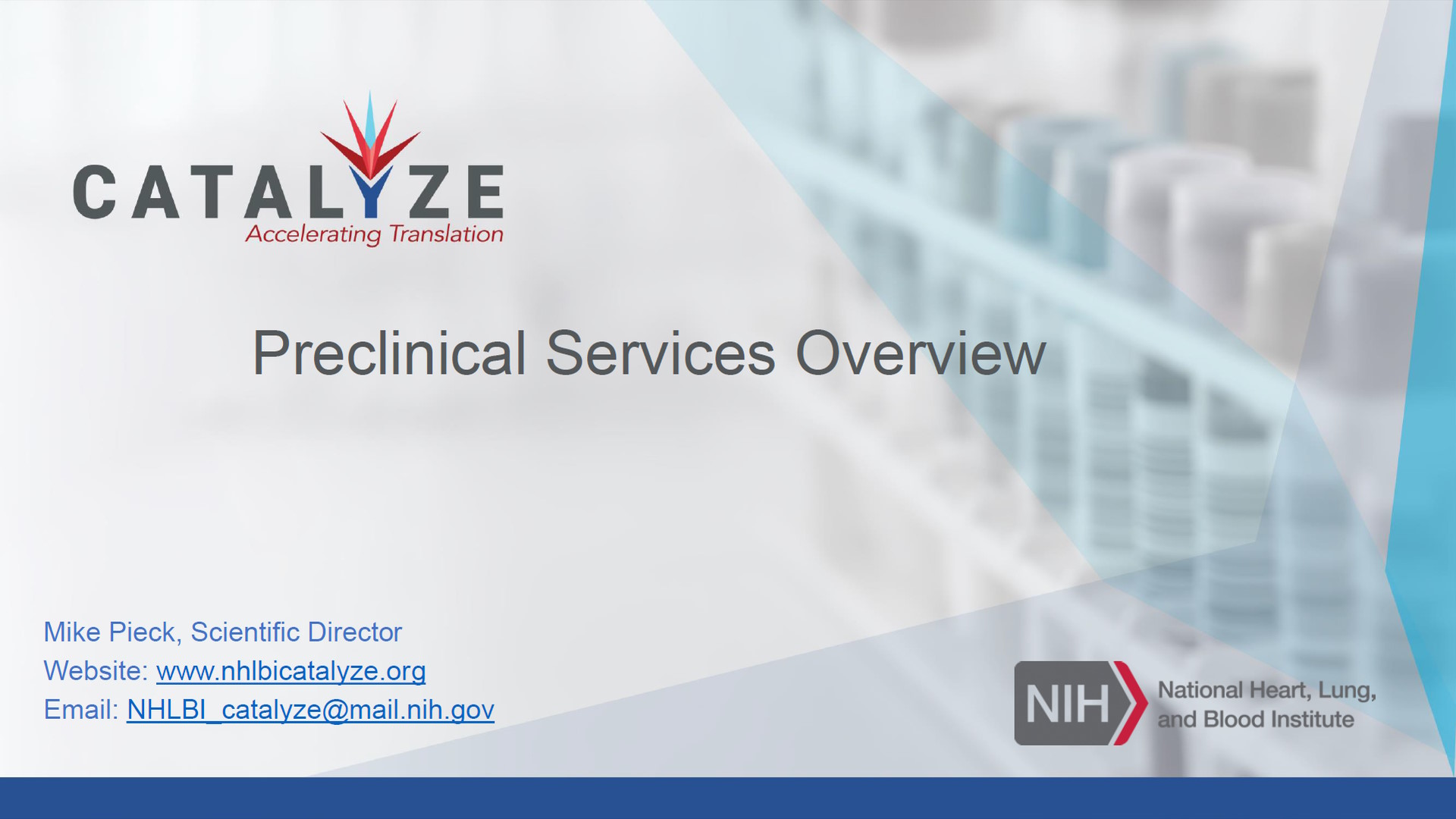 February 17, 2022
Product Definition Informational Webinar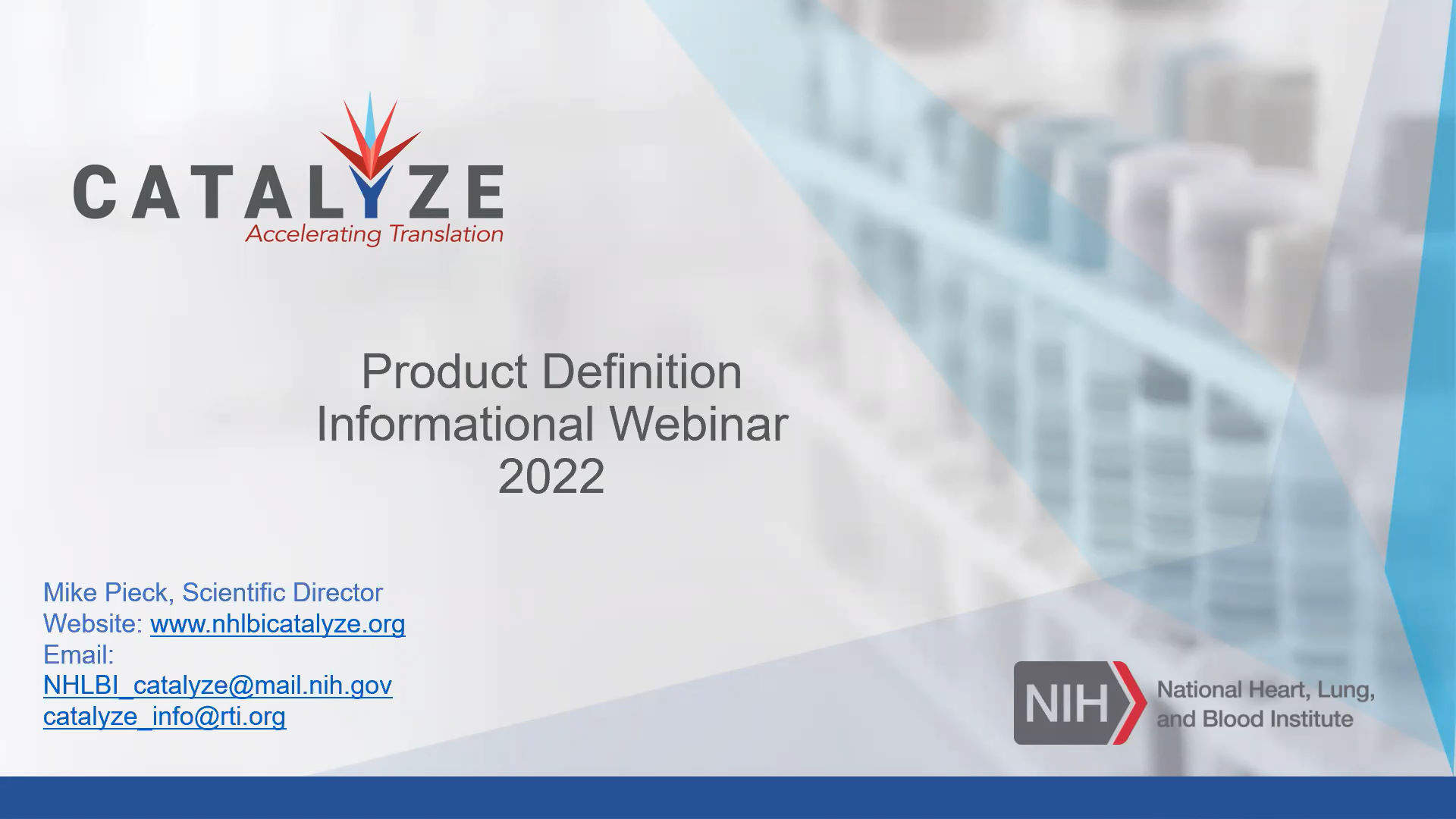 Key Performance Indicators:
Technology Readiness Level: 0-1
Funding Opportunities:
Research Project Grant (R01 )
Find out More:
Key Performance Indicators:
Technology Readiness Level: 1-2
Funding Opportunities:
Find out More:
Key Performance Indicators:
Technology Readiness Level: 2-3
Funding Opportunities:
Find out More:
Key Performance Indicators:
Technology Readiness Level: 2-3
Funding Opportunities:
Find out More:
Key Performance Indicators:
Technology Readiness Level: 4-6
Funding Opportunities:
Find out More:
Key Performance Indicators:
Phase 0 through Implementation
Technology Readiness Level: 6-8
Funding Opportunities:
Find out More: